Restaurant SoleLuna " Open Space "
Situated in the middle of the 5 acres tropical garden, the 10 m. high and 800 sq.m. spacious Rancho literally embodies the heart of the Resort. The impressive structure, covered with Suita leaves (a local palm, typical building material of the Bri-Bri Indians), houses the main hotel hall, the reception, a large dining room and an elegant American Bar decorated with a mosaic of mirrors and shells of the renowned french artist Lulu Berlu.
The dining room, where the guests are offered various themed evenings with dinner, night-happenings with live music and special cocktail-parties, faces to the main swimming pool as well as to one of the two Jacuzzi's. This environment, in which stands out the elegant American bar, makes the Restaurant the most important meeting point of the Cariblue.
​​​​​​​The management focuses on providing great tasting fresh food together with high quality customer service. Because of this, the restaurant has built up a regular clientel. Among those there are not just regular guests of the hotel, but also other people partaking in the extraordinary open events (Christmas parties, New Year's Eves, Halloween, Valentine's day, etc.), where gourmet-buffets with fish-, meat- and vegetable- dishes are direcly served from the kitchen-staff to the guests. This clientel continues to expand, mainly due to the favourable word of mouth reviews.
Caribbean cuisine and culinary fusion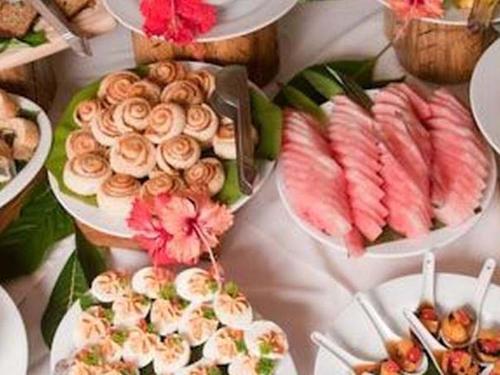 SoleLuna cuisine can be described as a pleasant expression of the surrounding cultural climate: the original Caribbean kitchen, that counterbalances the strong italian mark of the Totem Beach Bar, is in itself open to all kinds of creative interchanges.

Read our weekly dinner-program! We rely on the information you provide to help us anticipate and satisfy your needs.
We are open everyday from 07:00 am untill 10:00 pm